Raidlog Features
The essential tool for all PMs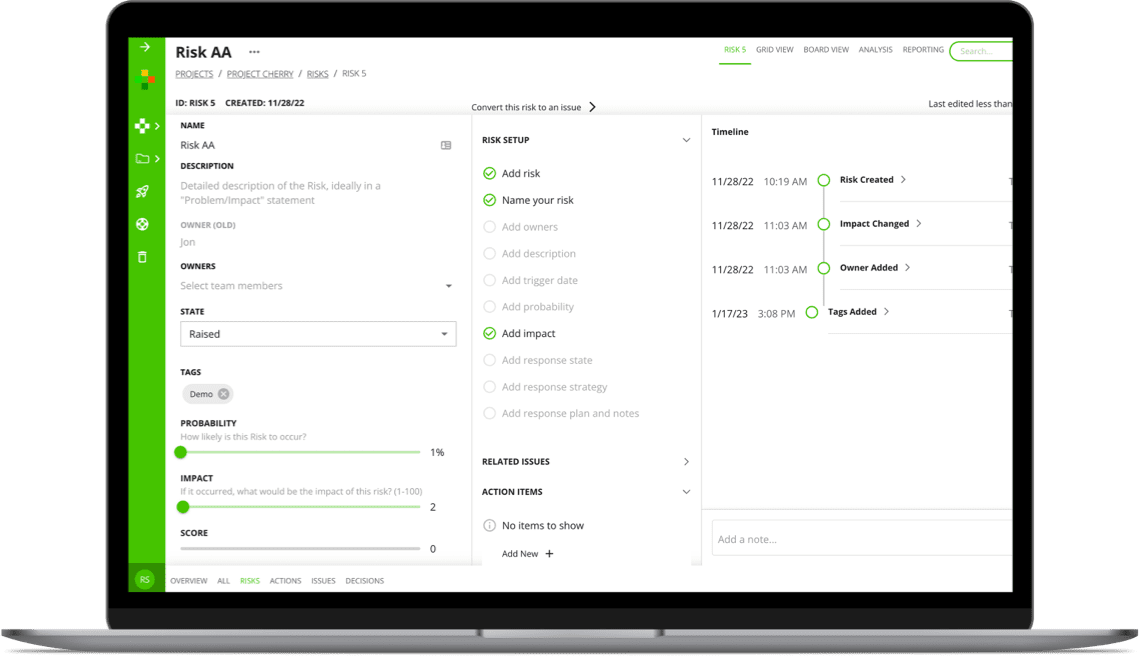 Projects
We know it's important to you to have a clean project area. Take a deeper look at projects within RAIDLOG.com and how to keep them organized.
Risks
Risk can bring a swift death to any project. How you report these risks can make or break your project outcome. Use RAIDLOG.com to create clean lines of communication to show your project sponsors how risky their projects really are with our all up grid.
Actions
It's true, as a Project Manager you're most likely one of the millions that struggle with forgotten Action Items and it's putting your projects in grave danger. RAIDLOG.com makes it easy to create a strong Action Log to account for each project action taken, every step of the way.
Issues
Issues will always arise during the execution of a project. It's when these issues get "out of control" and aren't managed or resolved properly that they can derail your project or cause it to fail. Let RAIDLOG.com show you how to keep an Issues Log that is easy to share and allows you to prevent these issues from happening again in future projects.
Decisions
Your Decisions log is a way to collect the thought process of the project, a record of what decisions were made, who made them and why. Prevent lost time and money in your projects due to poor decision making with RAIDLOG.com!
Grid View
For all RAID items we offer a simple Grid View, similar to the familiar spreadsheet you are use to. Have complete flexibility over your columns, easily export the grid to an Excel spreadsheet and take seconds to add or edit your RAID items from this view.
Notes & Timeline
Nobody likes surprises, so our Timeline tracks a full audit history of any change to any and all RAID items on your project. Know who did what when, and also add notes to tell the full story of each RAID item. Try THAT in a spreadsheet based RAID log.
All Up Grids
Aggregate your RAID data to see the top Risks, Actions, Issues, and Decisions across all your projects, or filter for the RAID items that are linked to the same category (tag) with our all-up grids.
Together, we can run or rescue any project