Run Or Rescue Any Project
Join The Revolution!
What is it?
Built by project managers with over 20+ years of industry experience, we understand the enormous amount of time and energy you put into each of your projects. Often tracking all the Risks, Actions, Issues and Decisions can be overwhelming if you don't have a well kept RAID log. A RAID log is a simple, effective project/program management tool to organize a project/program by tracking risks, actions, issues, and decisions. That's why we created RAIDLOG.com to ensure every project you manage gets to the finish line, on time. 
How much is it?
Starting at just $8.25/month per PM, you will have access to the RAIDLOG Professional plan with unlimited collaborators. It comes with all our free plan features, plus the following additions:
Premium access to our AI Risk Generator

Unlimited RAID logs

Unlimited project collaborators, internal or external to your organization

Ticket-based support

Integrations

 

and much more!
Take A Look Under The Hood
Uncover What Makes Us Unique
We get asked a lot, "What makes you different from the good ole' spreadsheet ?" Take a ride around RAIDLOG.com with us as we introduce you to our amazing features!
Understand how to better organize your projects
Best practices around cool features such as Decisions Log
How keeping track of individual changes is essential for tracking the history of a project and each RAID item
Plus so much more!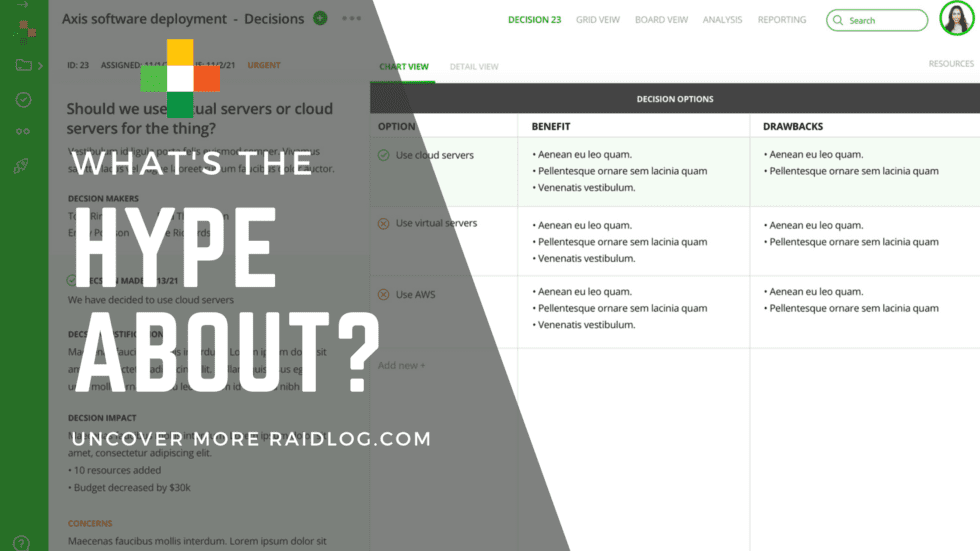 Gain Forward-Looking Visibility
Drive Risk-Based Decision Making
RAIDLOG.com helps unlock risk-aware business decisions and strengthens collaboration across your entire enterprise – from executives to project managers and business process owners. We improve business performance and help reduce losses across your entire organization.
Together, we can run or rescue any project